Since CBR 400R was successfully delivered, it was sunny and the touring life started!
As soon as you turn on the key, it seems like the meter starts shaking off and it is a moment of excitement.
I feel like I'm going to go! "It is good, is not it!

Well, the first destination is Enakyo (Oi Dam) in Gifu Prefecture!

The accompanying trip is...

younger brother span>.
This trip has become a trip to teach various long-time brothers with a long bike history.
Footprint of travel
A: Kozoji Temple station
B: McDonald's No. 19 Toki branch
C: Road station Toki Minonyaki highway bowl hall dormitory
D: Road station ramen and Ikoma no Sato
E: FamilyMart Ena Higashi store
F: Oi Dam
G: Enakyo Tenjin Garden
H: Dormitory komisaryo
It was about 120 km round trip in the whole process.
By the end of the trip, I got used to CBR completely.
My riding style seems to be bad, somehow left arm suffered from muscle pain.

"Is not my arms stretched too much for my brother?"
Thanks for your advice!!!!

I feel that my butt has become plump with vibration.

It was exhausted but it was a very nice trip.




Beginning of a trip 【To A → C Road Station Bronze Hall】

Departed around 8 in the morning.
I will run the CBR 400R while feeling some chilliness and refreshing air in the morning.
I really feel comfortable in the morning riding.

It is too pleasant to open the shield!
Insects dive on the face! & Collapsed on the face!
Because it is disgusting, shield closed soon!

The timing of opening the shield on the mountain path is difficult.

My brother 's bright red CBR 650 F runs in front of me.
It leads us with safe driving.

From Kozoji station I will run Aikijiji Road (Gifu Prefectural Route No. 15) for the first time to Toki City.

This road flowing beside the Shonai River (Toki River), the morning sun is spilled from among the trees, the coolness is comfortable.
Early in the morning, there are few streets of cars, and we run comfortably along the road with few signals.
I pass several bikes.

At this time, there are no pictures because it is gaggle to CBR which I am not used yet.
I am desperate for driving.

The gear that should have entered the second speed entered N, puffing ...!
I do not get caught! It's just chicken!

After passing Tajimi, when I ran along the Toki River, I arrived at Toki City.

McDonald's in the morning! .
But the stomach that began to decline can not fit all, leave the cola.

Arrived at "Road Station Bowl Hall" around 9:30.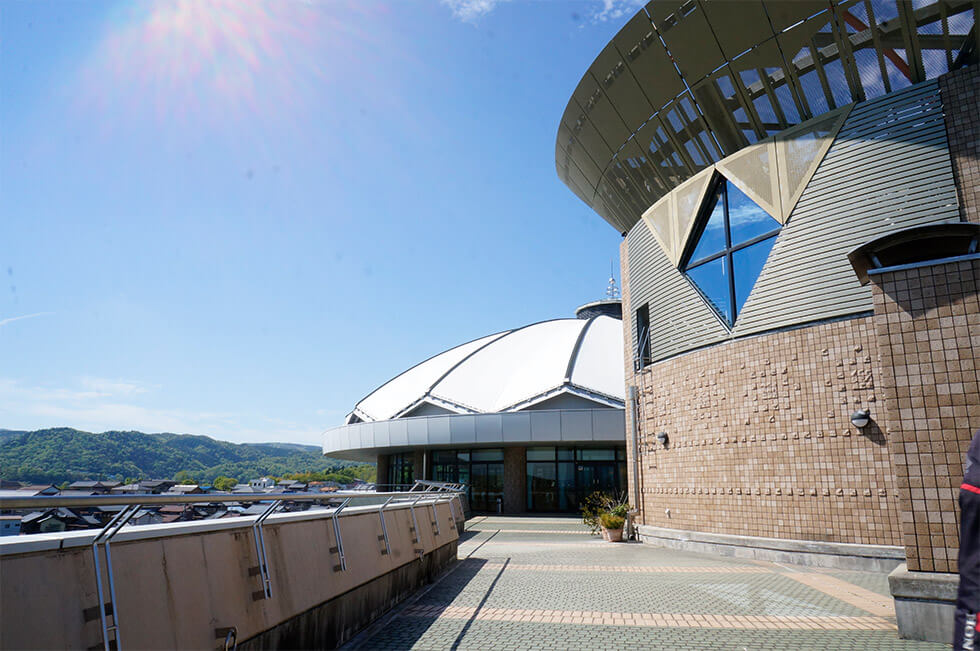 【"Road Station Bowl Hall"? 】
Toki City is a town of ceramics.
The kiln gathers and is the station on the road that sells ceramics.
Although it seems to be very good when I hear the name, there are lots of outer ceramics, not contents.
In addition, since the "pottery class" is also open, you can also use the potter to make original pottery.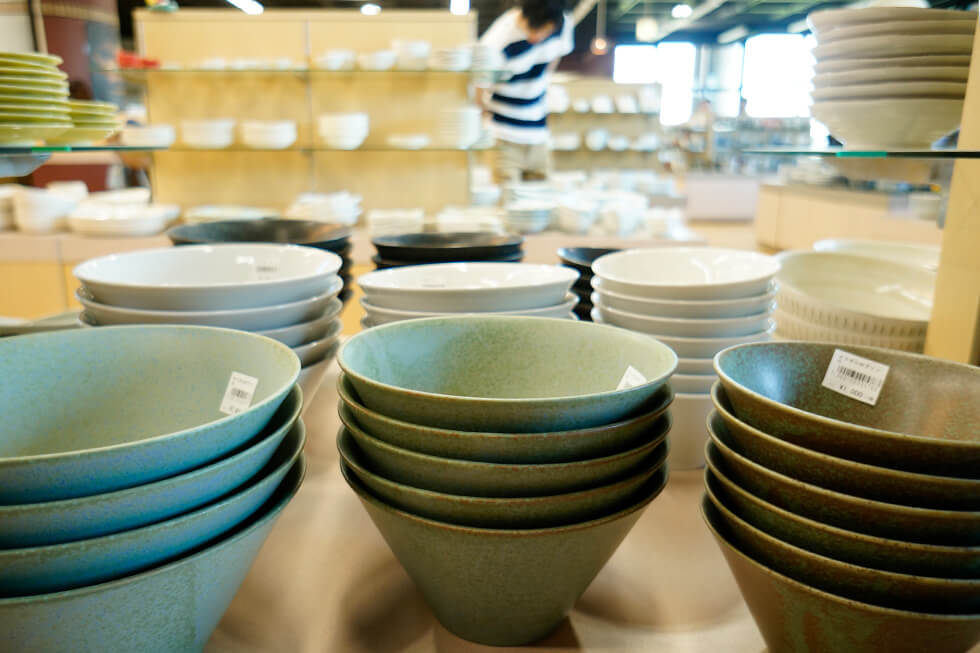 From the tea bowl of everyday use,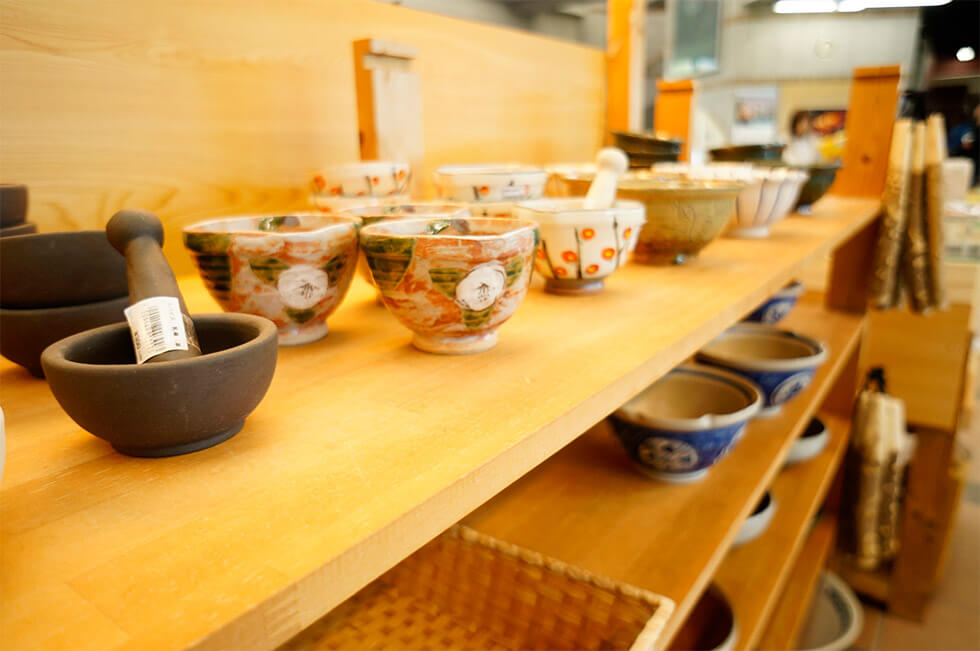 Until small mortar-shaped bastards, there are many ceramics.

My brother
"Because the tea cup was missing"
I bought a bowl of tea, I was putting it in my backpack carelessly.
I thought that I would not lack it if I put such a way, dare to go through.

Furthermore, there is a viewing space on the 2nd floor, so take a break while feeling nature.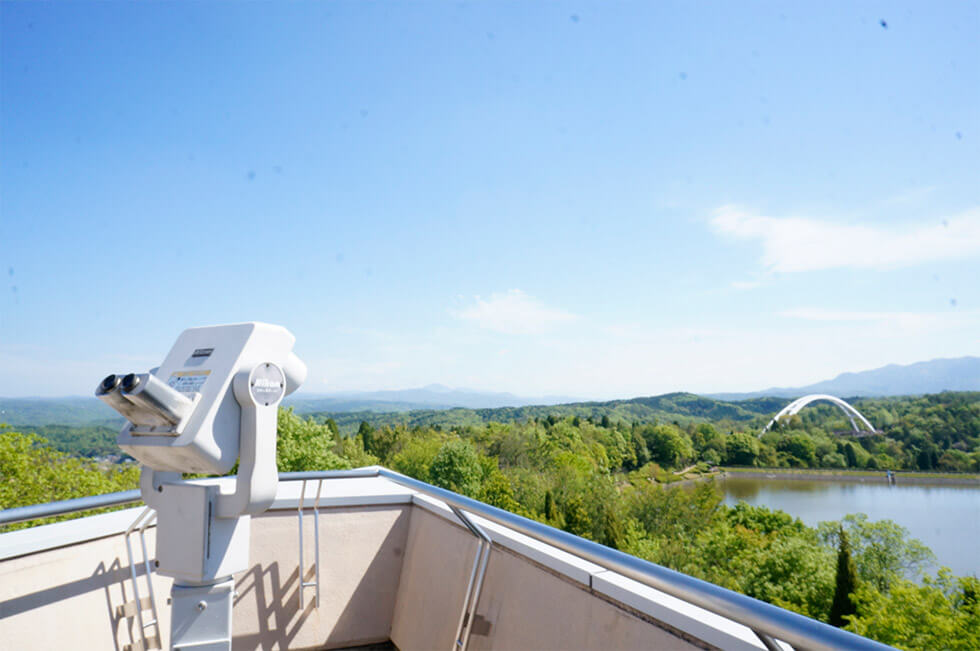 After taking a break, we are pacified about CBR.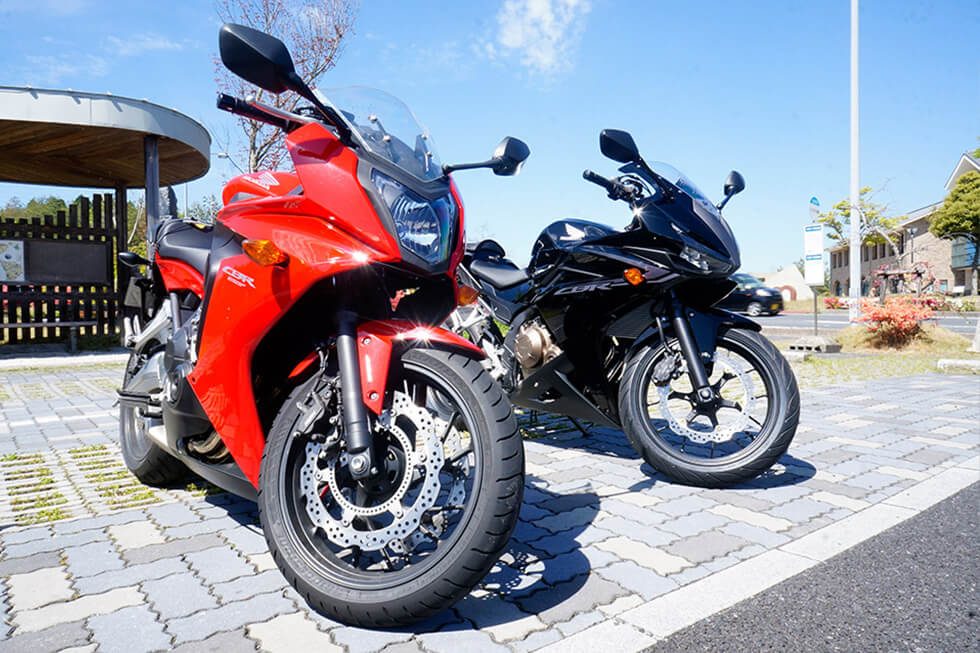 This is the first time that CBR 650 F appears properly.
It is accelerating with a sound that is jealous at a tremendous speed.
I will leave with room.

My brother also has a cool motorcycle.

The foot of the journey goes to Ena from here.
There is no signal! ! 【C → D Railway Station License and Village of Soba】

The way from here is the way through the mountains.
Moderate curve and up / down.
And, gladly there is no signal!

It is likely to ascend! .
Speed ​​has not appeared, so it is a matter of feeling.

In particular, the way through "Mizunami Takahara Golf Club" and "Ruiliang Golf Club" "Mizunami Country Club" is the best.
A high-speed corner and a straight line continue, even a beginner can feel as if he is running consistently.
There is also an uphill lane, so you can safely overtake GOOD!

This route from Mizunami to Ena is the best winding road this time.

It is cool, even at the time when the altitude is slightly high, when it began to get hot at 10:30.
The blue sky reflected in the rice field with water feels good.
The sight is also passed through, and the snowy mountains far away further boosts the comfort.

Running on the best road is tens of minutes.
Finally arrived "Road station Lament Iami and Town of soba"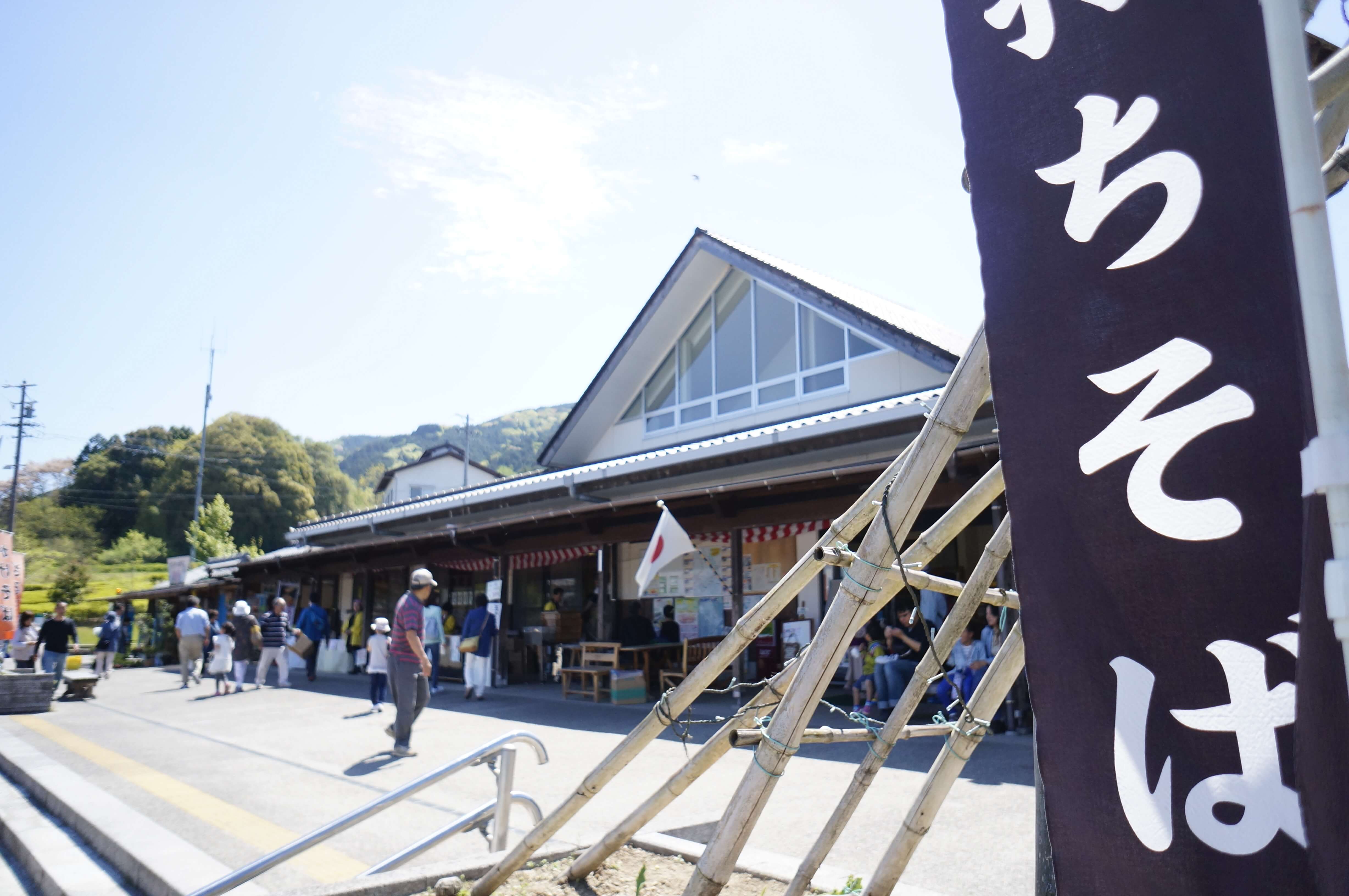 Because it seems like a hands-only experience classroom, family deviations were greatly upheavaled.
Inside there was space to eat handmade soba.
There is no buckwheat noodle in the department of souvenirs,
If you want buckwheat noodle "a noodle" system to ask the clerk ask.

My brother,
"I do not sell soba that can be eaten right away,"
Were you thinking about sunshine, leave without buying anything.

There is a water mill in the back, it is quite a serious 'buckwheat' spot. And impressed.
Also, many riders were taking a break at this station.
There is no encounter.

Take a break and head for Oi Dam.
大ツーリング団の先頭でガクブル【D→F 大井ダム】

I leave the soba spot and run down the road to the Oi dam.
"Changing the beginning."
And CBR 400R will lead.
The road also connects the incum and the smartphone and goes with a guide of the smartphone navigation.

With running for comfort for a while,
"O, CBR 1000 RR"
And from the corner of the bend, the boss of CBR was out facing out.

However, problems occurred here.
At the moment when I tried to pass through the nose's head quickly, there was a shocking sight.

With its CBR 1000 RR set first,
Both GSXR, NINJA, Panigale, Harley etc all have low-rise basses playing liter bikes in line with Zorozoro.
Roughly, 15, 6 units.

And the direction of the turn signal is the direction in which myself headed.
Behind me, there is no car.

As I and my brother pass by, the army of the brutality follows.

"Hey! Seriously! I am like the beginning!"
A medium size motorcycle called CBR 400R runs the top of monster bikes.
Aside at that time sweat shirt.

Filling the mirror is a litter bike that plays the dollar lunar bass.
Furthermore, everyone, wearing a mirror shield on leather tsunagi, doubling the fear.

Peeping over my mirror and looking at my brother's face, a cool face.
"Well, your motorcycle is big."

A red light at the intersection of "Jingu-ji".
Confirm that the corps put out a turn turn indicator.
The voice of the GOOGLE map also sounds in the brain from the speaker, "turn to the left".

But, I completely crowded into the corps,
"Yeah! Go straight ahead!"
And, it specializes in a mysterious path.

Of course, my younger brother is misplaced.
Sorry, my brother. While thinking
"I'm sorry, I got lost"
And, excuses naturally.

I am glad that I found a lovely place on the way.

It is something like a museum, but I take only photos and head for Oi Dam.
A few minutes to pass through the city area and run while enjoying winding on the mountain road.
Almost there! Oi Dam!
Indeed, it's good to have a dam.
It is insanely great.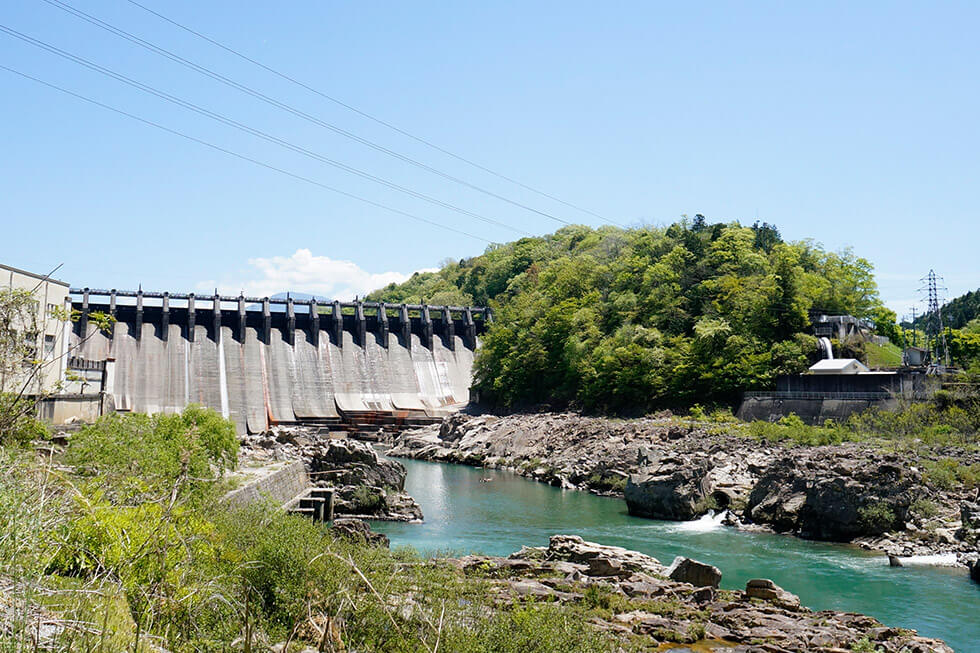 I stop the motorcycle and head for the dam.
"I was taken to my grandmother, and I walked like this."
While hitting the sentiment,
I climbed a little steep mountain road and arrived on the dam.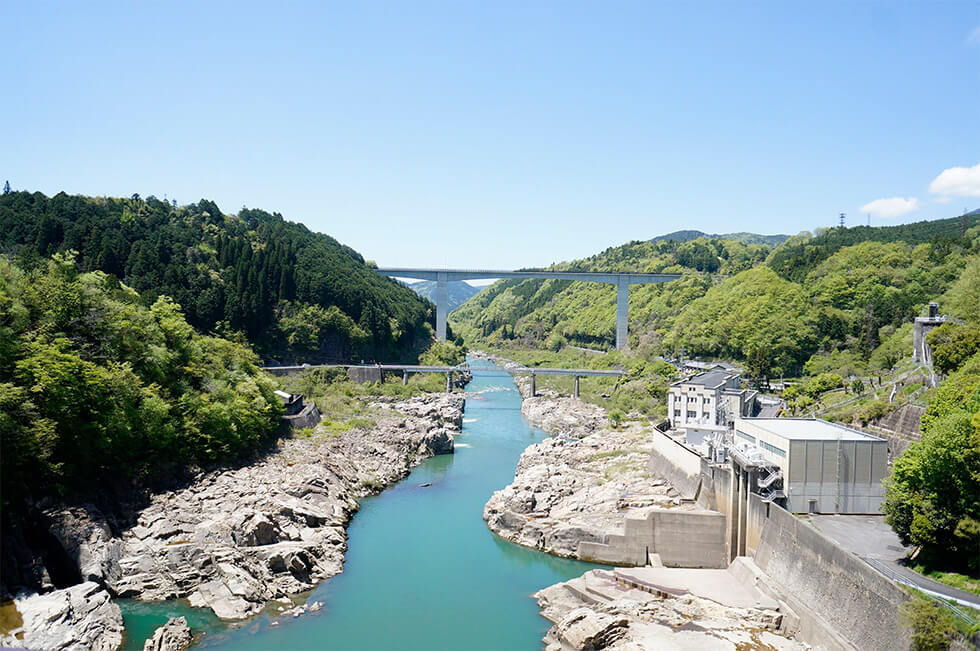 It is a magnificent view! Water is clean, weather is good, too.
More than anything, the dam is spectacular.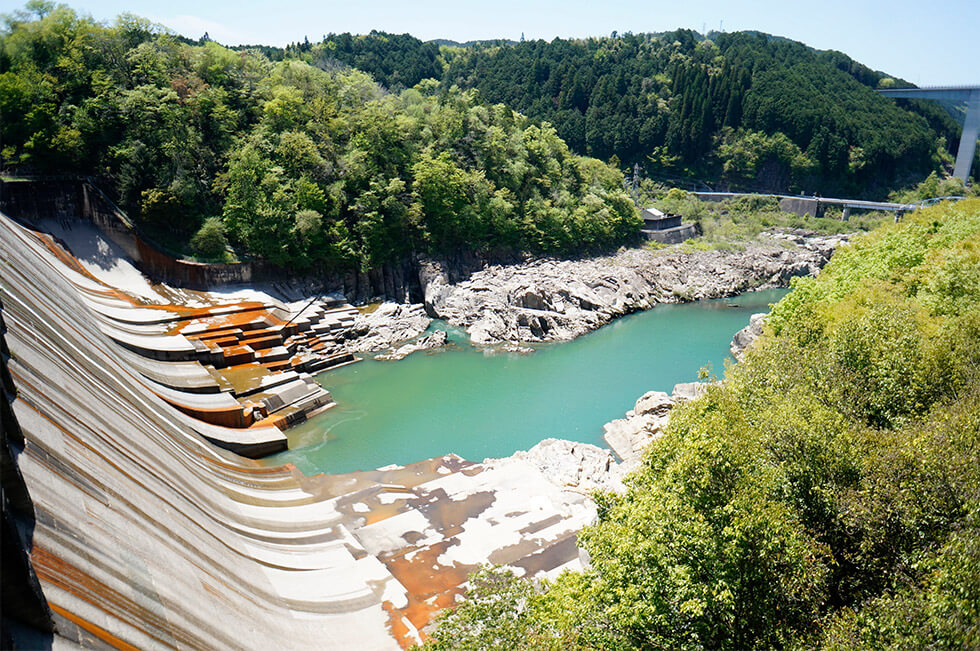 Street lights on the dam (?) Are also impressive with a retro feel.
And the opposite side is Enakyo.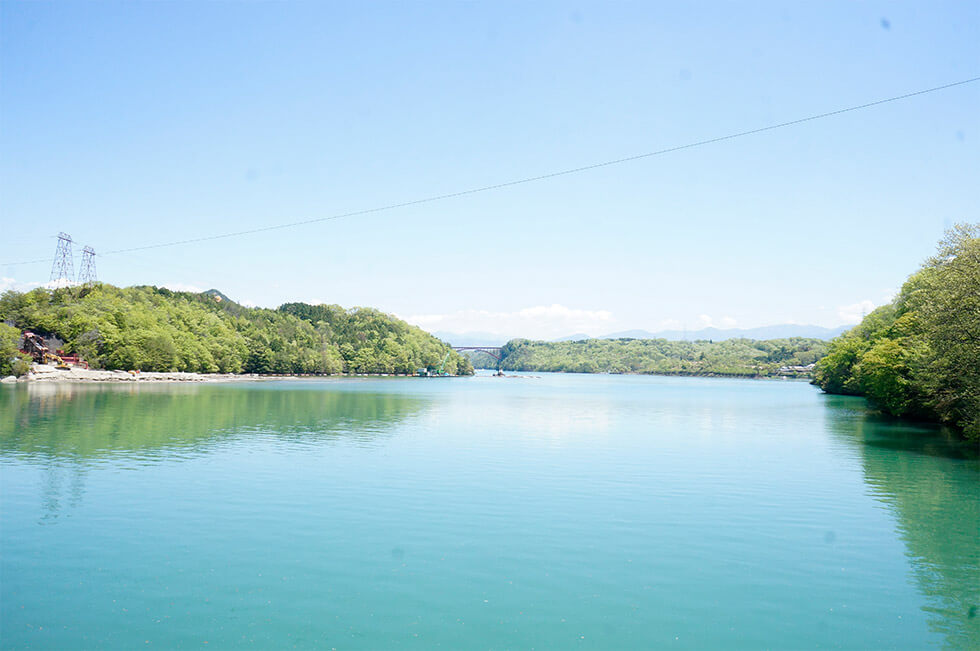 This is another GOOD landscape.
In the distance, I see a red bridge.
The time at this time is 12:30
"Let's eat something on Enakyo", we will move to Ena Goru, a sightseeing spot with a red bridge as a mark.
Brothers too outright lunch at a fashionable cafe 【F → H considered dormitory】

Departing Oi Dam, running for a red bridge is a few dozen minutes.
Suddenly the road crowded.

Yes, I passed the amusement park "ENAKYO LAND".
"A local amusement park is so crowded!"
A lot of people were lined up in front of the entrance gates.
"ENAKYO LAND" will go through and look for places to eat rice around the red bridge.

Then, before the red bridge, there is a big torii.
Because it is eat-in, so when entering it is likely to be found in rice, there is "Enakyo Tianchuen"
It was a leisure land adjacent to Enakyo Land.

Stop the bike and take a step into the building,
Running child!
A child crying!
A screaming parent!
"Yeah, I can not take a break slowly."
Leave in 3 seconds.
Tentatively, to the observation space near the bridge.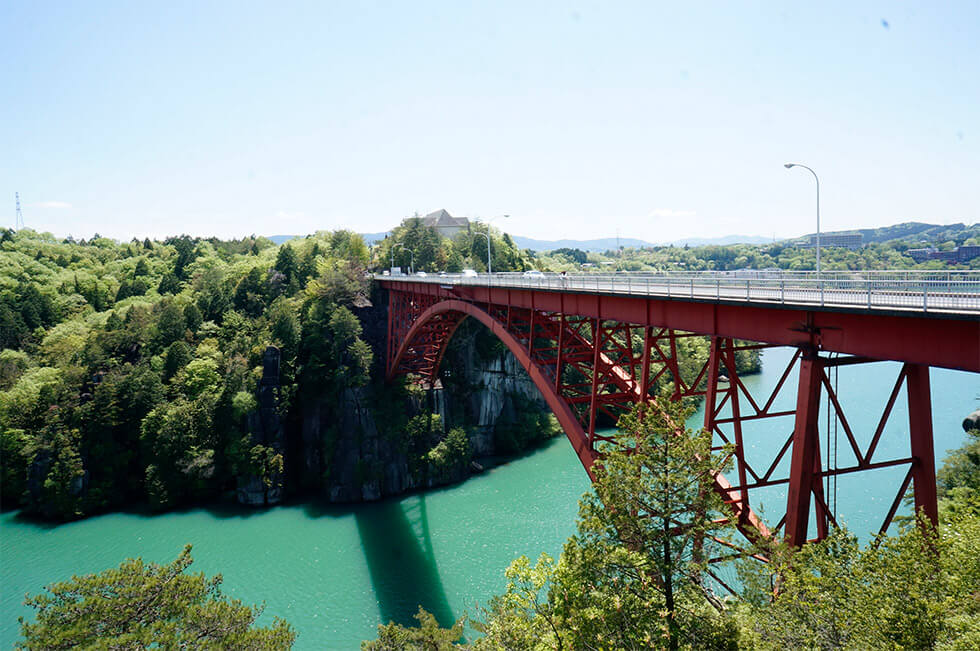 It is a magnificent view!
Because it's so expensive, I grabbed a solid fence and shot.
'I will die if I fall. '
While talking to them, I often take a break.
Even here, the riders healed tiredness.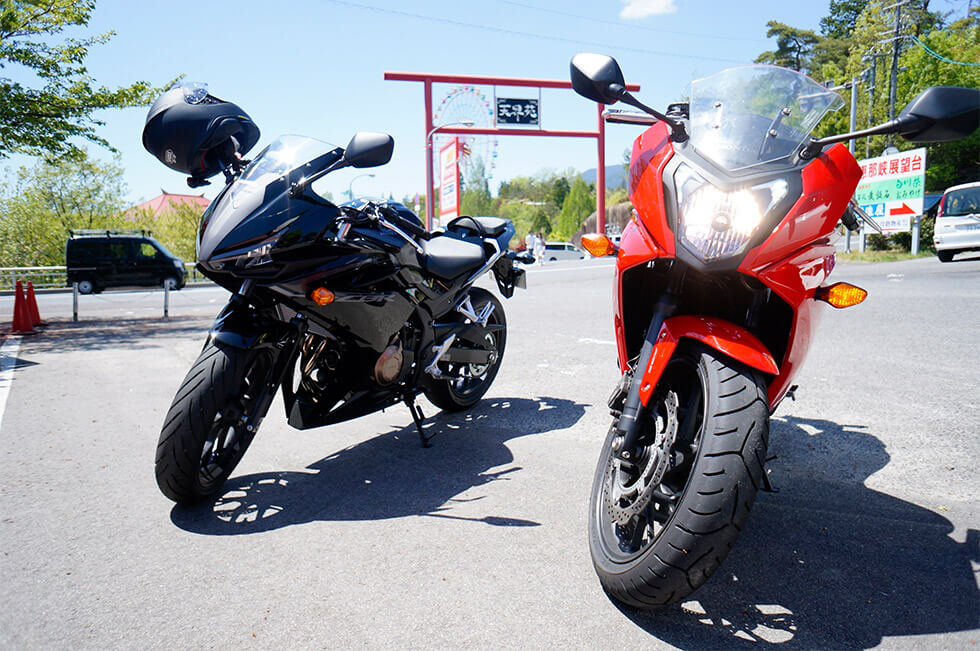 Pacquered back to Torii.
After enjoying the scenery, I remember hungry and look for a meal.
Running over a bridge for a couple of minutes, the letters "cafe" and the Italian flag.
"I will do it here for now"
And the cafe that entered is a big hit!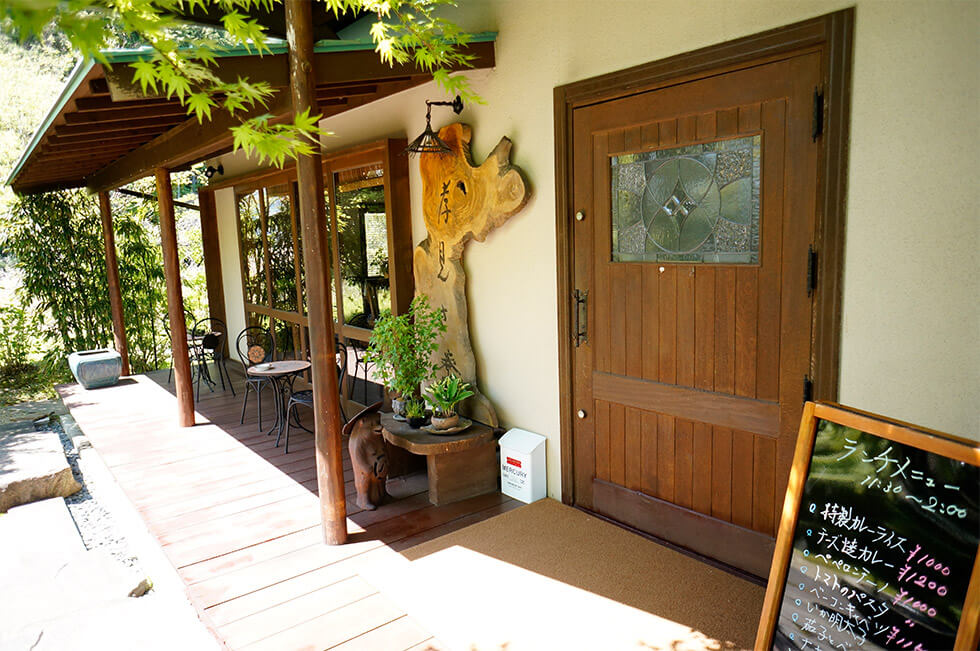 It is different from the noise like the zoo just like before, a cafe with a fashionable and relaxed time.
It was a shop with two elderly couple.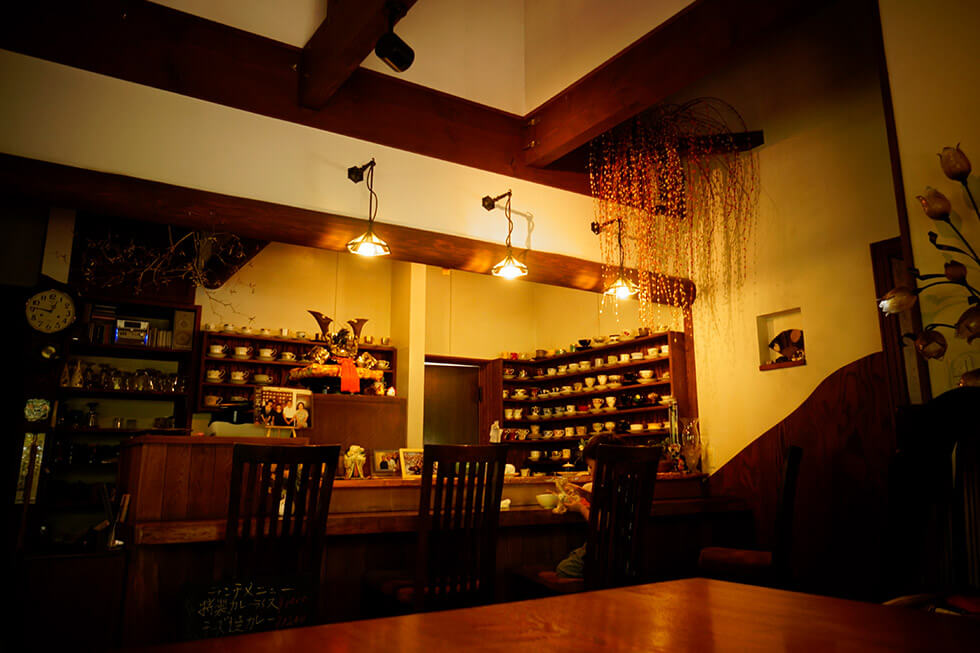 There are two pairs of clear regulars around.
In case
While feeling a sense of out of place,
"Do people come from motorcycles?"
When asked,
"I'm pretty reluctant"
And that.

…relieved.
I do not think there is any problem with this appearance.
Because I am hungry,
I ordered mentaiko pasta.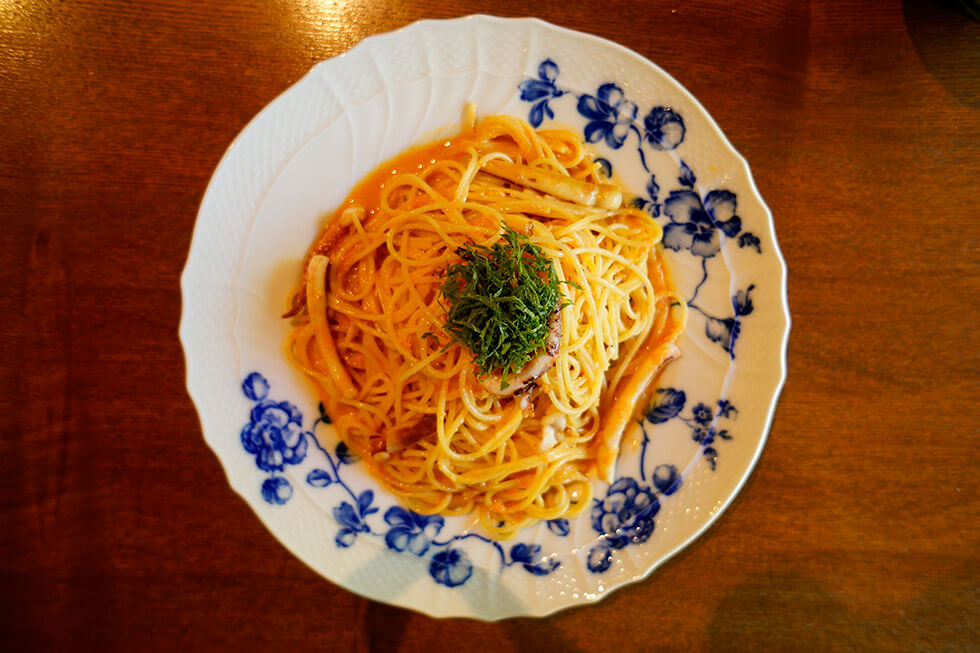 This is good again.
Mentaiko and squid are entangled with cream sauce and the flavor spreads in the mouth.
Supplement salt that the body wanted.
I feel the taste is more delicious.

My brother ordered curry.
"How about the taste?"
And,
"hot."

(... that is not the impression of the taste)
After examining it, your husband seems to be a former bicycle racer.
Also, it seems that coffee is delicious.
I want to visit again in the season of cherry blossoms and autumn leaves.
I spent a relaxing time and got on my way home.
Summary
First long distance touring with CBR 400R.
By the time I got back, I got used to operations
There was no shift mist from 1st speed to N at all. Lol

I thought about running 120 km distance,
"After all 400 cc is enough"
That it is.
Acceleration of departure to CBR 650 F, but I was stunned, but I felt 400 cc is good for touring.
It is the best choice for me who wants to run in moderation because it does not ride so fast and dangerous.
Also, because the road that I went through was also very easy to run, it is really recommended for those who want to run the road without a signal.
Please look forward to the next brothers touring!
Have a nice Tokai Bike Life!
バイクのパーツ探すなら? バイクブロスのパーツ・用品通販