There are journeys as many as the bike.
There are encounters as many as the riders.

Here is a place to unravel the story of the Tokai bike rider.
"My Ride Story"

Do normal or custom
The Tokai riders of Japan,
I like my bike's favorite impressions
I will spell it.
【My Ride Story】Vol.1:CBR400R

RIDER:Shotaro
Motor Cycle:HONDA CBR400R

I wrote plenty of CBR purchase circumstances in past articles, so please see here.
It was around college days that I thought that I wanted to ride for the first time on a motorcycle of medium size or more.
Just around that time "kawasaki" issued "Ninja 250 R", when the sun began to reach the quarter boom.

At that time, I got on Honda's "Little Cub" and came around Japan from Aichi Prefecture around Mt. Fuji and Kyoto, and I felt pleasure of running.

Go faster and go further.
I decided to buy "Ninja 250 R".
Although I went to just before purchase, the timing was bad and we abandoned the purchase and overlapped with job hunting activities.

After finishing job hunting, I chose the option of car rather than bike for commuting.
At that time, I chose "Toyota" "Celica" as my car.
I do not regret it at that time's choice.

Then, attractive bikes such as "CBR 250 R" and "ninja 250" were released, but the timing was bad and I went off.
As the license is still medium-sized license, the choice is less than 400cc to the last.
In Japan, medium-sized license, up to 400cc motorcycle.
If you acquire a large license, you can ride the motorcycle you want to ride regardless of the displacement.

I experienced my career change and finally stabilized, I just met "CBR 400 R".
I thought that it was "edge" that I met at this timing.
I was smoldering in the back of my heart, I felt the desire to ride a motorcycle and a fire was delivered to 5/4.

"I want to travel to various places with this new buddy."
It is overflowing with the idea that it will arrive now.
Inpression
Try running 500 km from the car delivery.

After all it is cool.
I feel a lot of gaze.

I can not imagine 400 cc and looks like a pretty early look.
The old CBR 600 RR's long and short two eye mask,
Ikemen looks more refined.

Looking at the figure reflected on the window of the bank, I will grin.

The headlights are equipped with LEDs as standard,
The point where the white light is lit by both eyes is also high.

With a motorbike a little ago, there are many switching from one eye to another with high and low, but it is cool that both glows after all.
I think that the light of the LED is reflected on the reflector, and the light streak like the line illuminator under the LED is calculated.
&;
Anyway, I love you at first sight with that handsome look.
Brightness is also enough, you can run safely at night.

The weight is also 192 kg and a light body compared to a motorcycle of the same size of 400 cc.
Although it is light, a sense of stability is high, so there are no problems with trivial gaps.

The balance of the car body is very good, and low speeds and corners can run safely.
Beginner me also has a very easy turning performance.
Even if a 165-cm friend gets on it, it's a solid foot, and it's safe to wait for a signal.
Position is not too tight as I thought before purchasing.
It is not that he keeps his arms stretched out, and because there is some clearance, it is not easy for people and arms to climb over long distances.
It is the impression that it is between tourer and sports.
To say badly halfway.
It is right just to say good.
I have a strong impression of the latter.
Very just right.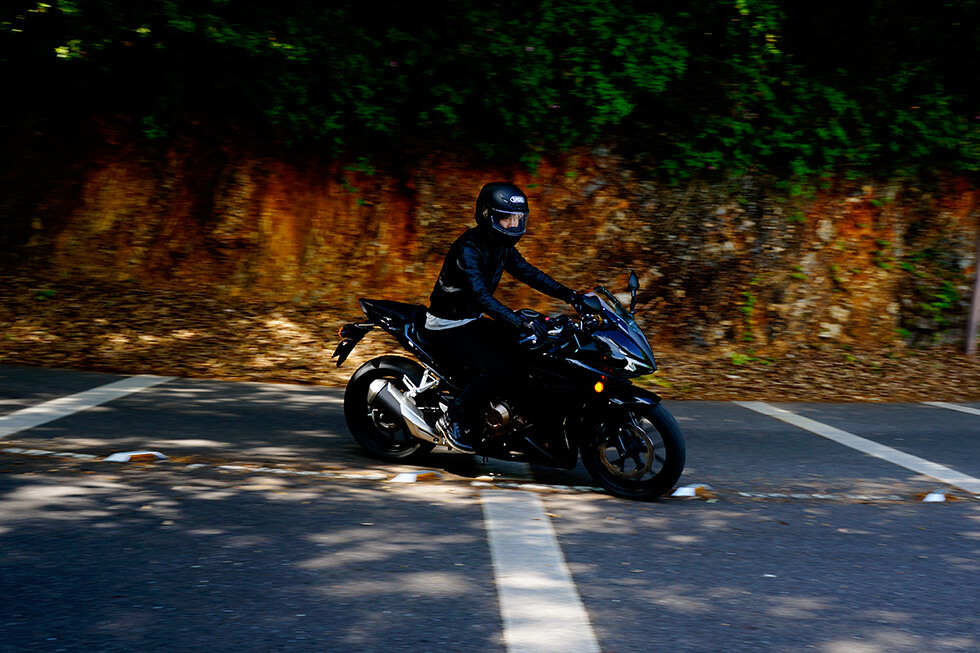 Regarding acceleration, I feel enough power to run on the ordinary road.
Even if you give speed as it is, the wind pressure is also reduced by the cowling, so there was no problem with high-speed cruising.
However, since it is only 400 cc, people who want speed will think that it is wiser to get on a large size later.
Vibrations transmitted from a 2-cylinder engine do not become difficult even if running for a long time.

The meter is equipped with a fuel consumption meter as standard,
Mileage is still 500 km, but fuel efficiency is 28.1 km / L, low fuel consumption.

The tank is 16 liters enough and it is calculated to run 500 kilometers until it is empty.
I am also very satisfied with fuel economy performance.

Touring and running.
I want to have both fun. It is a motorcycle that you can recommend to those who say.
Rather, I hope that CBR 400 R users will increase a lot.

Someday I would like to have a CBR 400R meeting.
Anyway, for me, it is the best one.
After all what is "My Ride Story"?
I hope this project will be a place to pride for Tokai bike rider's favorite car.
SS from Tourer, Naked from classic.
Scooters and mini bikes.
There is nothing to do with the model and displacement.

A motorcycle is a hobby ride.
There are reasons to decide on the bike.
I hope I can introduce the points that pushed back my purchase with the riders. I think.
It would be nice if it would be helpful for someone to choose a bike or a lifestyle with a bike.

It is not too much to say that I started this site because I wanted to do this project. Lol
It is happy if it becomes the catalyst of the connection of Tokai riders.
I will introduce more and more!
The first one was me Shotaro!
Have a nice Tokai Bike Life!
【View other My Ride Story】


【Customized up to 2017 is summarized here】